"Reflections of Time"
by Karen Oborn
Reflections of time recall the past
Full of images we hope will last,
Memory retreats with gathering speed,
Future shines promising our every need.
Inder Prize Judge's Choice &
Slaters Country Store Visitor's Choice Award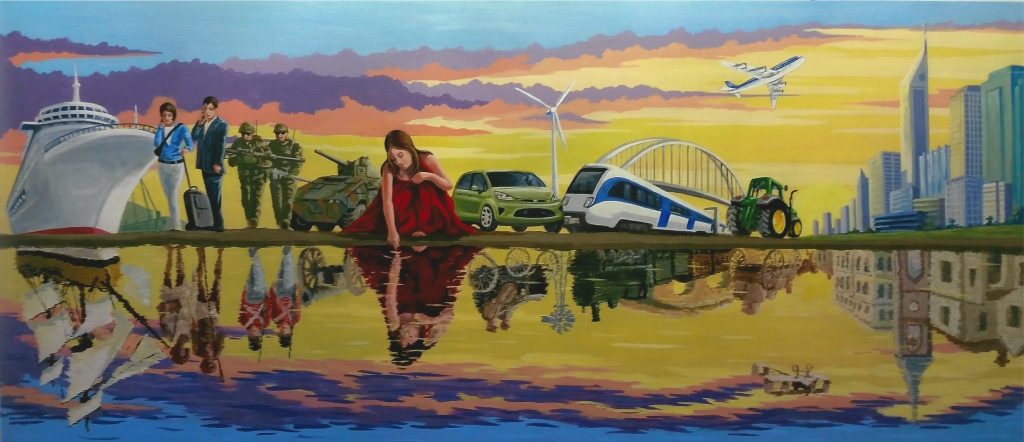 Pondering by Gren Freeman. 
Sponsored by Sheffield Hotel
In my mural I have played with literal reflections, reflecting the people and objects of now with some images from our recent past. So as the sun rises and our future looks bright, the young girl ponders the things of our past but the images are not clear …
World of Marbles Highly Commended Award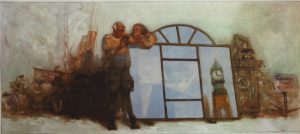 Sponsored by Turner Trading
Life is beautiful Life moves on.  The couple seems to have always worked together. Now they are having a summer garage sale.  No more home renovating. No more sailing or bike riding. Dad just got a smart phone.  Out grown Children called in time to have Video Call. Mom is smiling and watching.
The Girl Who Loves Time
by Eleanor Yates.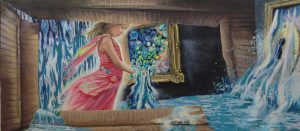 Sponsored by Streamline Upholstery, The Hub Inc, and Sheffield Motor Inn
Looking through a cardboard box of memory, to the mirror of time, at a little girl who carries the light of hope.  The water represents our memories flowing through time.  Just as the water (memory,) transforms as it moves through the mirror (time;) memory transforms us and our world.
Life by Patricia Smart,
Olly Grohs and Ben Munk.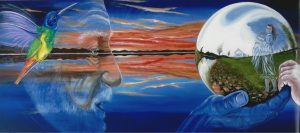 Sponsored by Tasmanian Alkaloids
The poem reflects on the beauty, fragility and fleeting nature of life, represented by the humming bird.  The old man holds onto faded memories of his home, young wife and baby.  A bright future is promised in a new dawn of fresh air, clean water and a new generation.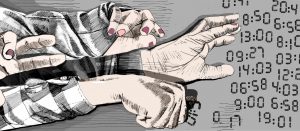 Sponsored by Slaters Country Store
I just wanted to show our greed towards time. In each and every day we start to live faster and faster, doing more and more, thinking about many more things in the same time than our grandparents used to. So as a result we need more and more time, forgetting about such things as relaxation, doing and thinking about nothing. This illustration is also a paraphrase of our tendency of trying to keep the moments and not letting them go. It's is a kind of catharsis, because it's also about me.
Yesterday and Tomorrow
by Aileen Gough & Karen Armstrong.
Sponsored by AAA Granary Accommodation and Petuna Pty Ltd
The mural would show the way our great – grandparents had to exist.  Please note the milking goat, the country clothes line and the broken down car.  The thought bubble shows the future with high-rise buildings containing everything required for existence and the sky is full of flying vehicles.
When Tomorrow Comes
by Julian Bale.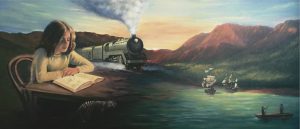 Sponsored by Targa Tasmania
No matter your age or what era you have lived through, embracing past events and new technology leaves an indelible impression on our imagination.  This can act as stepping stones and help steer us through uncertain times.  So what will the future hold out for you, when tomorrow comes?
Reflections of Time
by Frances Rowland Wregg & Yannick Martin.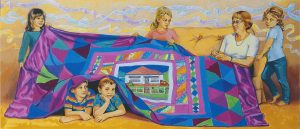 Sponsored by Treloar Transport
Our Grandmother embroiders a quilt – Stitching it with images recalling the past. Snippets from curtains, dresses and dollies. Each piece a story of happy times passed. All her gathered memories are reflected. To grandchildren of the future – at last.
The King, The Dame, The Burning Flame
by Kerry & Daniel Nicholson.
Sponsored by Silver Ridge Retreat, Bossimi's Bakehouse and Cafe, The Sheffield Shed
We identify our mural as a reflection of the Australian creative arts, in particular the entertainment industry. Through three iconic entertainers a journey of artistic self-expression, has been established and maintained at a unique high standard, which transcends generations. All the while the winds of change remain the same.