MURAL FEST 2020 THEME:
Visions of the Future
WINNING MURALS:
The Changeover (Inder Prize)

Preservation (Judges Highly Commended)

Ferri Lee and Alicia Swiderski (TAS)

Keith & Loretta Sommer (QLD)
John & Kerin Easthorne (TAS)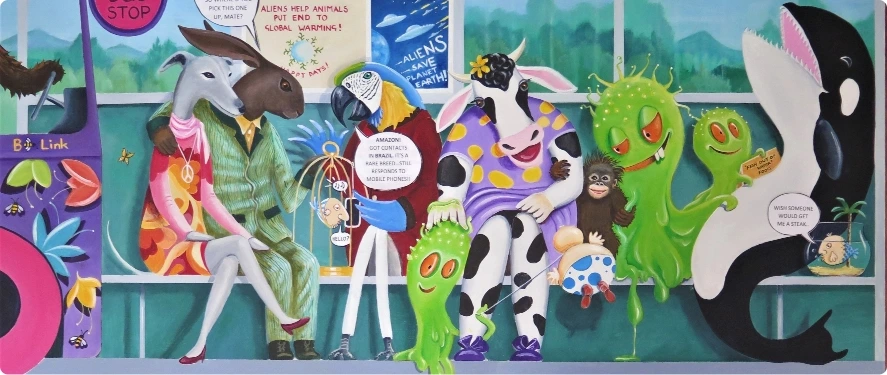 The Changeover
After watching Earthlings for many centuries do little to save their planet,
Aliens came to free Earth from Humans' environmental destruction.
The Animals took charge and so began the restoration of our planet.
This a snapshot of a bus stop in the future.
….And what happened to the human race..?
Preservation
As the sun rises on a new day
Together we can keep the dark clouds at bay
Let's use our knowledge to preserve
And save the future that they deserve
Train In Vain
Mesmerized passengers stare at their phones and VR devices whilst silently riding the filthy, forty year old train. Hooded clothing is worn to remain anonymous and to protect their heads from polluted air, acid rain and burning sun. Experiences occurring now and into the future.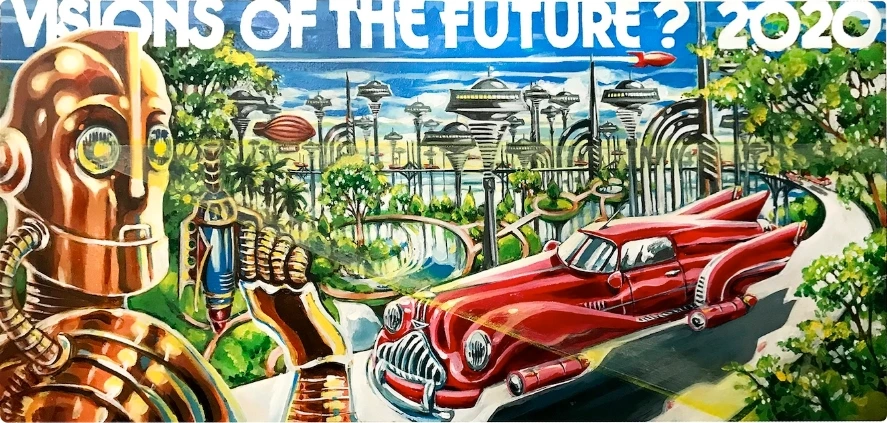 Visions of the Future? 2020
We designed an image in the style of ••• what they thought 2020 would look like back in the 1930's ••• (do we ever get it right?).
Prosperity In The Age Of Tomorrow
Seldom can we conceive where future generations will go. With science at the forefront of progress for those born to the technological world, can Mankind's destructive past be contained? May we see the return of threatened species from the brink of extinction and beyond, restoring the precious seeds of life.
Where Would We Bee – The Orangutan Knows
We are smothering mother Earth in concrete, tar, plastics and chemicals. Why go to Mars when we are turning our Earth into Mars. We must help nature fight back. Fruit comes from trees, not supermarket shelves. Plant trees and veg. & flowers for the Bees.
Kanamaluka 2525
It is hot, very hot. The wind is on fire
Red waters rising Higher and higher
We hunt on the water As we learn to be brave
Natures our master. We're always her slave.
Photogenic Synthesis
My main goal intention to display on the mural is to take the mind on an adventure into the forever evolving future of mother natures wilderness, and human living platforms, within the ecosystem. I am here to flourish the viewers eyes into the creativity of everyone's life changing exciting future.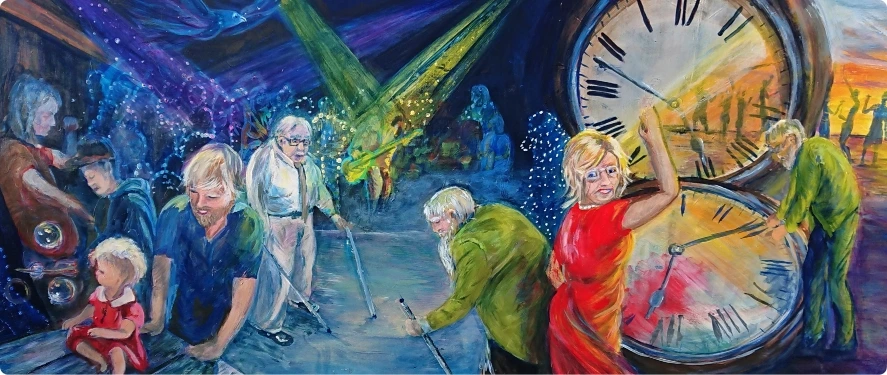 "Growing Old" I Imagine 50 Years From Now
Time is precious, flying by. I am old yet young inside. Present time etched in our faces generation after generation. Our youth grasp their future, fearless yet wisdom. Celebrating their journey with confidence as their mentors have, before them. Never forgetting those, who have enriched our lives, shining lights forever.