Sculpture Competition – Our Wonderful World 2018
To download and view terms and conditions of the 2018 Sculpture competition please click here
To enter please download the entry form here
THROUGH THE EYES OF A CHILD Sculpture Competition 2017.
While there is plenty of focus on the mural paintings going on between the 16th to 22nd April in Mural Park, there is also an annual sculpture competition that runs parallel to it at the Sheffield WORKING ART SPACE Gallery, 2 Albert St, Sheffield.
Drawing on the same source piece of text:
"The world is a playground
wonderful and wild,
What would you see,
Through the eyes of a child?"
…the sculpture competition asks artists to express their ideas in a three dimensional way. The Sculpture Competition will be on show at the Working Art Space Gallery from March 4th until April 23rd and everyone who visits is able to vote on their favourite work. Will your choice agree with the Judge's Award or will you be able to see something in a work that they might have missed?
Last year's Sculpture Competition attracted lots of fascinating entries from artist across Tasmania and this year will be no exception.
What will you see through the eyes of a child?
________________________________________________________________
The WORKING ART SPACE Gallery is open 10-4 daily at 2 Albert St, Sheffield.
Why not make your way there by travelling along the MOSAIC PATH through King George V Park. The path runs from the carpark at the back of the Sheffield Shed, Blacksmith Café and Commonwealth Bank all the way to the Working Art Space Gallery in the historic Drill Hall. There's no better time than the present to explore this hidden gem of Sheffield.
…and don't forget to drop into the ONTRAK GALLERY at the Information Centre where you will find quality artworks by local artists and craftspeople. The ideal place to find a unique gift, something special for yourself or even beautiful handmade cards.
Judges Prize and People's Choice Award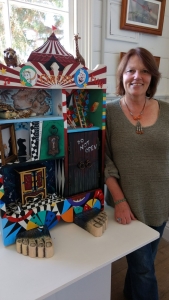 Runner up in the Judges Award