International Mural Fest 2015 Finalists
2015 Poem
"Windows of our Dreams"
by Keith Sommer
From a place of hope and plenty
Where a wish is all it seems
The wind of change blows gently
Through windows of our dreams
2015 Mural Fest Profiles
Nikolay B Dimitrov – Bulgaria Europe
In the year of 2007, Nikolay is a part of art exchange program in Lithuania, Europe, in the Kaunas University.
After his university graduation he started to work as a collaboration named "SuperGteam", and realized various exterior and interior projects in Europe – Bulgaria, Italy, Austria, Portugal, Slovenia, Germany.
In 2014 SuperGteam exhibited canvases in 1908 gallery in Sofia, Bulgaria and Burgas, Bulgaria.
Currently the artistic team is working in Portugal and Bulgaria, doing exterior and interior mural paintings.
Mural Name: Traveling Dreams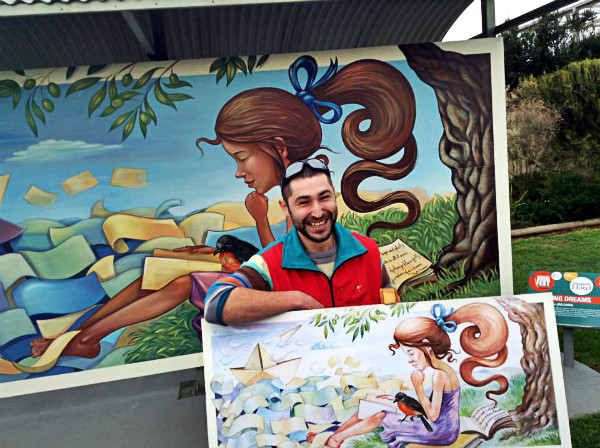 Winner: "Inder Prize" Judges' Choice Award
Sponsored by: Sheffield Hotel
Concept: The idea in our project is to depict a little girl, reading a book and dreaming of imaginary places. On the background there is a river made out of papers, already read, being gently moved by the wind. A paper boat and plane are appearing too, symbols of adventures and dreams. The poem by Keith Sommer is written on the page of the opened book behind the girl. Some elements in the composition are going out of the frame, like dreams are, who have no borders.
Patricia Smart & Olly Grohs – Bullaburra NSW
"I live in the Blue Mountains in N.S.W. I have been a professional Mural artist for 22 years. My formal training is in printmaking but I enjoy all forms of art including sculpture and photography. Being an Artist is a way of life for me and nothing makes me happier than creating something new."
Mural Name: Wish Upon a Dream
Winner: "Slaters Country Store" Visitors' Choice Award
Winner: "World of Marbles" Highly Commended
Sponsored by: Fudge 'n' Good Coffee, Silver Ridge Retreat and The Don Store
Concept: The child is a symbol of hope, filled with plentiful resources of Tasmania. She makes a wish by blowing on a dandelion as the gentle wind forms the clouds into an ever-changing dreamscape. The scene unfolding is framed by a window between daydream and sleep.
Lindsay Gardam – Sheffield Tas
Learning to paint whilst on a working holiday in Africa in the early 1970s.  Returning to Tasmania I devoted much of my time to painting landscapes and portraits.  Exhibiting in Kingston beach Zeehan, Launceston, Burnie and operating an art gallery in Devonport and then Carrick.
I began returning to Africa and painting and selling in Botswana including mural painting. Currently more involved in community art projects in Tasmania.
Mural Name: Boy and His Dreams
Sponsored by: Treloar Transport
Concept: Gazing out over the ocean. What is out there past the land of plenty, wondrous things adventure in exotic lands. Winds of change blow through the pages of imaginations. Camel to 4×4. In the land of hope and plenty wish can be more than just a dream.
Gren Freeman – Howrah Tas
My background is in the sign industry where I was a signmaker having experience in hand painted signs and large murals also sculptured objects.
I also worked for many years as a graphic artist for point of purchase merchandising and display companies.
I am presently doing sculptures using recycled corrugated iron and selling my work at the Salamanca markets. I also participate in the Deloraine craft fair each year.
I was a finalist in the 2014 International Mural Fest where I received the second prize the highly commended award.
Mural Name: Moondream
Sponsored by: IGA Express and Tony Braid Building
Concept: In a land of plenty where dreams and wishes can come true, immigrants arrive with only their suitcases and hopes for a better life. From the cities to the outback. From the coral reefs to the snow on cradle mountain, we live together peacefully.
Frances Rowland Wregg – Westlake Qld
Frances is a professional mural artist with 15 years' experience and many public art commissions from government and community organisations.
Yannick Martin – Yamba NSW
I have studied art at the Griffith University – College of Art and have always had a keen interest in the subject nationally and internationally. In 2014 I took part in an organised Art Tour through Artimis Art Tours to the Greek Islands.
Mural Name: Soul Searching
Sponsored by: AAA Granary Accommodation and Petuna Pty Ltd
Concept: From a place of hope and plenty, forests and farms, Gothic grandeur of mountains, splendour of stars, we're always searching for 'soul' within our life, Creating myths, legends to explain what's wrong – what's right. We've testaments and epics for Man's story through time, Yet we still go on searching for Inner Self – "Divine". If eyes, then, are windows to the 'soul' contained within, Let searching wind soon find us, so dreaming can begin.
Judy U & Jon Nelson – Westbury Tas
Although initially trained as a fine artist, Judy has been active as an educator, involved in teaching and writing graphic design course material for over 40 years. To balance her teaching commitments, post-graduate studies, and raising a family, she has also worked as a children's book illustrator. Judy has now retired from teaching and currently lives in Westbury, TAS.
Mural Name: A Little Rabbit's Tale
Sponsored by: Targa Tasmania and Sheffield Motor Inn Cafe
Concept: This mural is an adaptation from the classic childrens book, The Velveteen Rabbit written in 1922 by Margery Williams. It describes the bond reciprocated between a child and his favourite soft toy, and the conflicting emotions experienced when circumstances change. The story's content (how toys become real) engages the audience by juxtaposing typography with visuals, therefore reinforcing the theme 'Windows of Our Dreams'.
Alicia Swiderski – Kentish, Tasmania
Alicia lives at the base of Mount Roland where she continues her life-long interest in painting landscapes, portraits, and still-lifes. Having trained and worked as an Architect in Poland, Alicia has lived in Sheffield since 1997. She is an active member of the local arts community, and has produced interpretative billboards for various places of interest in the Mount Roland district.
Dorota Swiderski – Hurstbridge Vic
Dorota is a mother of 3 children and a practitioner of Acupuncture and Chinese Medicine. Her love of drawing and all aspects of fine arts from an early age was inspired by her mothers amazing talent and enthusiasm. This is her second time taking part in the Mural Fest.
Mural Name: Chrysalis Dreaming
Sponsored by: Turner Trading
Concept: Time is continuum of change; And we are but an element of its journey. Within this journey exists a cycle of life.  As day follows night; So too a butterfly emerges from its chrysalis; Capturing the dreams, vibrancy, energy and spirit of life renewed.
Fereleth Lee – Sheffield Tas
Born in England, I came to live in Australia in 1979. I have spent many years working with children with Autism, teaching art, and doing art therapy.
I have completed murals in schools and Nursing Homes as well as houses. My passion is painting and a move to Sheffield Tasmania 5 years ago was the perfect place to inspire me further, and become a part of the wonderful artist community here.
Jane Lemon – Staverton Tas
I was born in the UK and moved to Australia in 1979, where I lived and worked in NSW moving to Tasmania in 2006. Chasing my dream I embarked on my journey in Wood Design.
I am excited to have the opportunity to help paint my first mural.
Mural Name: Hope and Plenty's Gift of Fantasy
Sponsored by: Slaters Country Store
Concept: With her dog "Olli" as companion, a sleeping child sails away on an enchanted journey where illusion and magic are only a wish away.  Her dreams are realised in the Land of "Hope" and "Plenty" until time runs out, and she awakens beside her paper boats.
Herb Herring – Ulverstone Tas
I was born in Victoria in 1945 and have traveled extensively across Australia. I am mainly a self taught artist with a special interest in landscapes and bush scapes. I worked for Parks and Wildlife Tasmania for a number of years doing track work, and fell in love with the Tasmanian Wilderness, from which I draw inspiration.
I work mostly in Acrylic and watercolour, but lately have taken an interest in airbrushing.
Mural Name: Beyond the Barriers
Sponsored by: Tasmanian Alkaloids
Concept: In our material world we tend to build barriers which inhibit our ability to see beyond the walls which enclose us.  To look beyond our physical presence, opens our minds to the beauty and majesty of the world around us, and , a little imagination can open a world of dreams.